FAQs
This page provides additional information and answers to frequently asked questions about Wildcard Amusements.
If you have additional questions, please feel free to check out our "Contact Us" page.
Q.

Who is Wildcard Amusements?
A. My name is Eric Mentzer and I am the pinball addict behind Wildcard Amusements. Since buying my first pinball machine over 25 years ago, I have owned hundreds of amusement machines. If it has flippers and a silver ball, I've probably owned it or worked on it at some point.
After years of being a pinball technician I ventured into other parts of the coin-op industry. Ultimately I started a full-time business called Wildcard Amusements, specializing in all coin operated games and machines. We focus on various video games, and pinball machines.
As demand for pinball machines increased and supply continued to dwindle, the pressure to find and sell more pinball machines reached new levels. And so, rather than continue to sell them completely as-is like everyone else, I decided to create a new name and trustworthy source for pinball machines...Wildcard Amusements!
Anyone can list a pinball machine on eBay, Craigslist, or other website and say "it works but you're buying it as-is". Working or not, pinball machines have a lot of little things that can break, and very few of those sellers have the knowledge or willingness to fix them, much less help the new owner of the machine. I put it all together by selling most of my machines with a 3 month warranty on the parts that are hardest/most expensive to repair (the PCBs), and lifetime technical support on all the little stuff on the playfield. After all, pinball is meant to be a fun game, not a complicated headache.
Q.
How do I contact you directly?
A. The quickest way to reach me is on my cell phone at (717)-577-5693. You can also try my shop number at (717)-741-1479. If you prefer e-mail, my direct e-mail address is wildcardamusements@gmail.com.
Q. Where do your machines come from?
A. Many of the pinball machines I sell come from sources and contacts that I've made in the coin-op/arcade industry over the years. I know over 100 commercial operators by name. Today, most of these operators don't have many pinball machines but when they do, they prefer a quick and easy sale or trade. These machines often require the most work and clean-up, but sometimes turn out to be a diamond in the rough. Other machines come from pinball collectors that I've met over the years. Again, some of the "well seasoned" collectors just want a quick sale or trade, as they've learned through the years that selling a pinball machine "as-is" can still lead to many late night phone calls, complaints, etc. Often times I have to purchase machines in bulk, which means I have to take the machines nobody wants in order to get the desirable machines. But I have ways to get rid of the unwanted or abused games. I never sell junk.
Q.
How negotiable are your prices?
A. When I list a machine I usually check around for current asking prices and recent sales on that title, as well as my own past sales. Whenever possible, I keep my prices competitive at the lower end of asking prices.
That said, condition plays a huge part in pricing, as well as my willingness to repair PCBs for free and answer questions about a machine long after it's gone. Then there are the selling fees to account for, depending on where the machine is listed/sold. Considering all of this, if you have an offer that you feel is reasonable, let me know!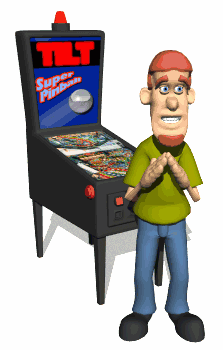 Q.
Do you have a retail store that I can visit?
A. To keep my overhead low and prices even lower, I do not have a retail store for you to visit. Sorry! I had one for several years and quickly learned that it was not worth it since the majority of my machines are sold and shipped all over the country. However, I usually have these machines set up in my shop or elsewhere so that they can be played and viewed. I can show you around the machine, answer any questions you have, and even load it up for you to take home, along with spare bulbs and a bottle of cleaner. Just call to set something up!
Q.
What exactly do you offer with the warranty and tech support?
A. The 3 month warranty covers all of the PCBs (big green complicated circuit boards) in the backbox of the machine. The warranty begins when you receive the machine. During that warranty period, if you have a problem with the machine just contact me for a free diagnosis. If I determine that the problem exists on one of the PCBs, then I will instruct you to remove that board and ship it to me. I will test, repair, and then test the board again before sending it back to you at my cost. The only cost you will incur from this process is the cost to ship it to me, and your time (~15 minutes) removing and re-installing it.
The lifetime technical support is basically free advise. This offer also begins when you receive the machine and lasts for as long as you have it. Once again, if and when you have a problem with the machine just contact me for a free diagnosis. You must act as my eyes and ears and be willing to poke and prod, press buttons, remove screws and nuts, and in worst cases purchase and use a soldering iron or DMM (both necessary tools for owning a pinball machine, but not provided by me). I may require pictures and/or video in some situations. After diagnosing the issue for free, I will then advise steps for a solution. If parts are required, I will offer links to the best (ie cheapest) source for the parts you need, and provide instructions (if necessary) for how to install them. Now for some bold disclaimers: I will not, under any circumstances, provide in-home service by myself or another person/company at my expense, nor will I be liable for any damages caused by playing or working on the machine.
Both of these offers may become null and void in the following instances: 1) Modifications (or "mods") are installed on the machine that could possibly cause an issue; 2) The issue is a result of physical or environmental damage;